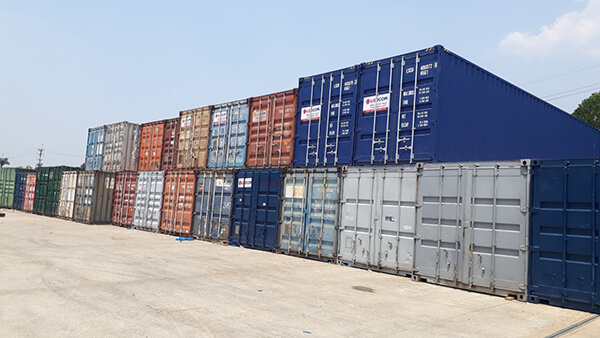 Origin of old containers
Containers originate from cargo ships at sea. After a period of use, these containers are no longer qualified for sea transportation, so they should be replaced and resold to the ones that need to use. Every year, there are many shipping lines that need to sell old containers and this is the source of container supply for the market.
Although it is an old container and cannot be shipped by sea due to strict regulations in ocean transportation, it is still good with 70% - 90% quality and is eligible for use in normal conditions. In the past, people only used old containers as warehouses or transporting goods. But for about 30 years now, old containers have been designed and reprocessed into offices and prefab houses with high durability, beautiful designs while the cost and construction time is very short.
Benefits of buying used containers in Hanoi?
The market for buying and selling used containers in Hanoi has been very active in recent years. The biggest reason is the great benefits it brings.
Firstly, compared to buying a new container, using an old container is much more cost-effective. When customers have demand for containers mainly for storage or office, the price of this type is only from 30-50 million/cont, while the price of a completely new container is about 140 to 160 million. Thus, instead of spending 4 times more money to buy unnecessary new containers, you should buy old containers at a cheaper price but with the same quality.
Secondly, compared with the construction of traditional concrete houses, the use of old containers as houses, offices, and warehouses saves a lot of construction costs and time. This is clearly shown when the cost to build an office or warehouse is up to hundreds to millions and even billions of dong. But for only a few tens of millions, guests have a room with an equivalent area. Not only that, the time to build offices and warehouses from containers is much shorter than the time it takes to build a concrete house in a few months.
In addition, using old containers as offices and warehouses also makes it easy to transport and reuse or liquidate after the construction is finished or there is no need to use it anymore.
What to buy used containers in Hanoi for?
Today, old containers are not only used for packing and transporting goods, but also converted into containers with different purposes such as:
Making warehouses, cold storage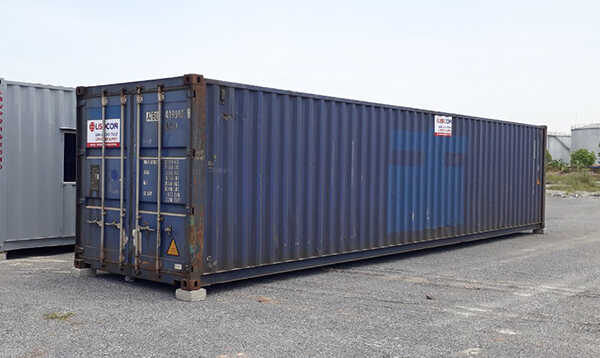 The first products that the second-hand container sellers in Hanoi provide are containers used as warehouses to store goods, equipment, supplies, and machinery. It not only helps customers to store goods safely but also easily relocated in the event of an accident thanks to its mobility. In addition, buying old containers as warehouses also helps to save expensive warehouse construction costs. According to experts, it can save 70% of construction cost.
Today, the old container is also integrated with an air conditioner to preserve goods that need to be at low temperature such as seafood, vegetables, etc.
Working as an office, a container house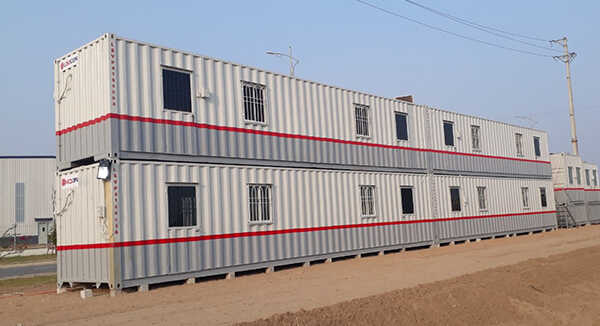 It can be said that the creation of container offices in Hanoi's second-hand containers is a great achievement and has contributed greatly to today's life. It helps to create fully functional offices with low cost, short construction time and especially portable. Therefore, buying containers for offices is chosen by many customers, especially construction companies. They use containers as offices for employees to work, temporary housing for workers, site operators...
Besides, the companies selling old containers in Hanoi can also put them together into larger, more solid container blocks. Usually, big companies with many employees working on site will use assembled container houses rather than individual containers.
Making toilets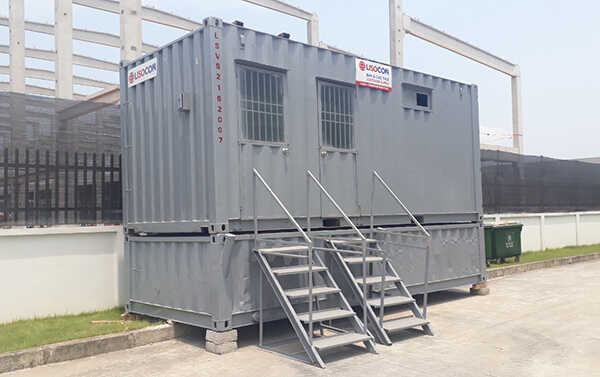 Toilets from containers are also very interested by customers. It is fully equipped with toilet, washbasin, faucet, partition, door, exhaust fan, lavabo, lamp, mirror, towel basket, paper box, garbage basket, water tank.
What is the selling price of used containers in Hanoi?
How much does it cost to sell old containers is the issue that customers are most interested in when buying used containers. There are more than a dozen companies selling used containers in Hanoi with different types, prices and quality.
Walking around the market, the selling price of old 20-foot containers ranges from 20 to 40 million/cont; 40 feet carton price from 34 to 50 million/cont. Or the price of 40 feet office space ranges from 85-100 million/cont. The price difference is up to several tens of millions of 1 container between suppliers. This makes it difficult for customers to know which type to buy.
After many years of operating in the field of buying and selling used containers, we advise customers not to choose a container that is too cheap because the quality will not be guaranteed to affect production and business activities, nor is it necessary to choose the type that is too expensive because it will be wasteful.
Lisocon is the most prestigious company for renting and selling used containers at low prices in Hanoi. The price we offer compared to the quality offered is the most competitive in the market. That is, we always advise our customers with the best option at an affordable price without causing waste, ensuring both quality and price for customers. Please contact us immediately so we can help you: 1900 636 028 – 0906 137 168
Note when buying and selling used containers in Hanoi
Check the old container before buying
When buying used containers in Hanoi, we need to carefully check if the container is punctured, leaky, rusty or dented anywhere? Is the floor still solid? Is the machine working properly? This is very important because the old containers are now painted and refurbished to be clean and beautiful to serve the needs of use and if not carefully checked, the customer may buy a leaky, rusty container.
A good old container must meet the following standards: Intact condition, use time can be 7-10 years, have CSC board of shipping company, production life ...

Don't just care about the purchase price
Low price is one of the factors that influence the buying decision of customers. Many companies selling used containers in Hanoi grasp that mentality and sell them with words like "selling old containers for scrap metal" to make customers attracted and buy goods without paying attention to product quality. . This is very dangerous.
If you buy a very cheap but poor quality container, it is likely to be damaged, not working at that time or after a period of use, it will degrade and leak. This not only affects the work, but also wastes money when buying another cont to use. Instead, we should buy old but good quality containers at reputable units with good warranty, repair and replacement regimes, although the price is a bit higher.

You should choose to buy from reputable used container companies
As mentioned above, now in Hanoi there are many companies selling used containers at cheap prices with different quality. Customers should choose a company that has a clear address and phone number, has many years of operation experience, and has received many good feedbacks from users. It is best to look for locations near your area, or near the construction site to be able to see the goods in person.
In case it is not possible to come see it on eyes, the customer should ask the company to send a photo of the product, and if purchased, ask for the same old container.
The place to sell good used containers in Hanoi is chosen by many people
With 16 years of experience, Lisocon is the most trusted used container manufacturer and seller in Hanoi. Our products are highly appreciated for their quality with competitive prices and good accompanying services such as: prompt warranty, annual maintenance and inspection of electrical and air-conditioning equipment.
Contact us now: 1900 636 028 - 0906 137 168
Some pictures of selling old containers in Hanoi by Lisocon
Used office containers for sale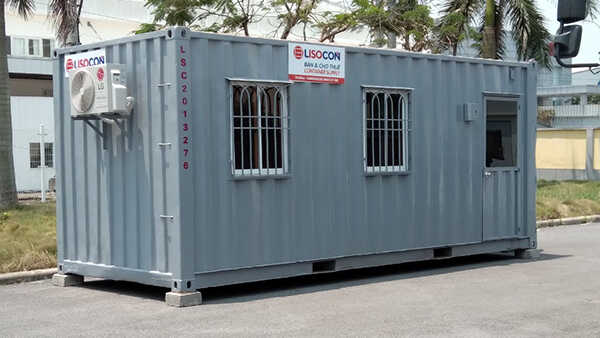 Used dry container for sale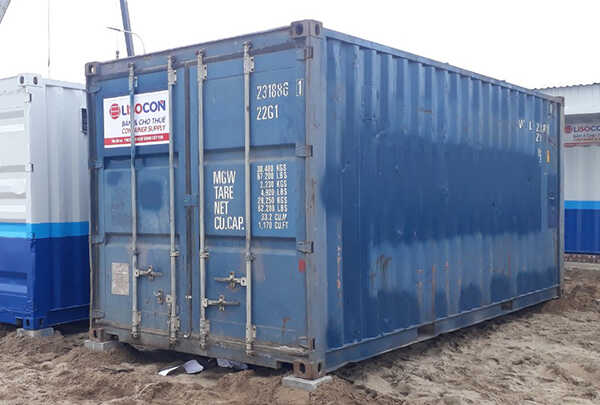 Used reefer container for sale