What are containers? Size and structure of the container? What types of containers are there? You can refer to the following article for more information:
What is container?
Container is a large rectangular steel box with the following common dimensions:
10' or 10 feet: 3.05 meters
20' or 20 feet: 6.1 meters
40' or 40 feet: 12.2 meters
45' or 45 feet 13.6 meters
Note: 1 foot = 0.3048 m = 30.48 cm.
Containers are used a lot in transporting or storing goods. Thanks to the containers, goods are stored and transported everywhere easily and safely. Not only that, today, containers are also redesigned into offices, luxurious houses, fully equipped, no different from modern houses.
The structure of containers?
Containers have many types, each with one or a number of different specific structural features, but basically the container is a 6-sided rectangular box with the following structure: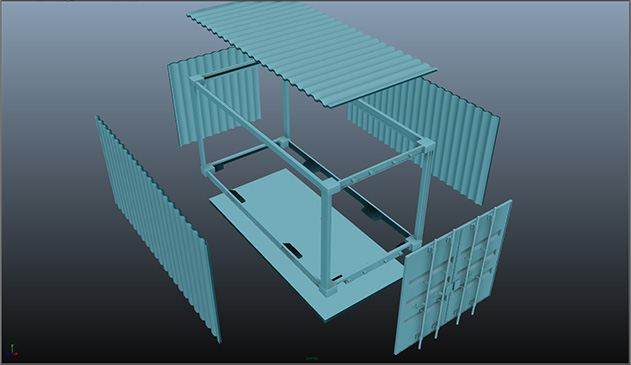 Frame: frame made of steel with rectangular box shape, and is the main bearing component of the container
Bottom and floor: The bottom of the container consists of horizontal beams connecting two bottom longitudinal bars. These additional crossbeams support the frame structure, and support the load directly from the container floor. The floor is made of solid wood, good bearing
Roof panel: is made of steel or aluminum with flat or corrugated form covering the top of the container.
Side wall
Front end wall
Rear end wall and door: The back includes 2 flat or wavy metal doors. The door attaches to the container frame through a hinge mechanism. Along the edge of the door, there is a watertight seal to prevent water from entering the container. Normally, each door has two door lock bars on which 2 handwheels are mounted with lead clamps
• Corner Fittings
In addition, depending on the type of container, there will be some other details. For example, refrigerated containers will be equipped with additional air conditioning. Office containers will have more doors, windows, furniture, air conditioners... Or toilet containers will be designed with toilets, mirrors, ventilation fans, water supply and drainage systems.
Types of containers
Containers have many types but mainly use the following types: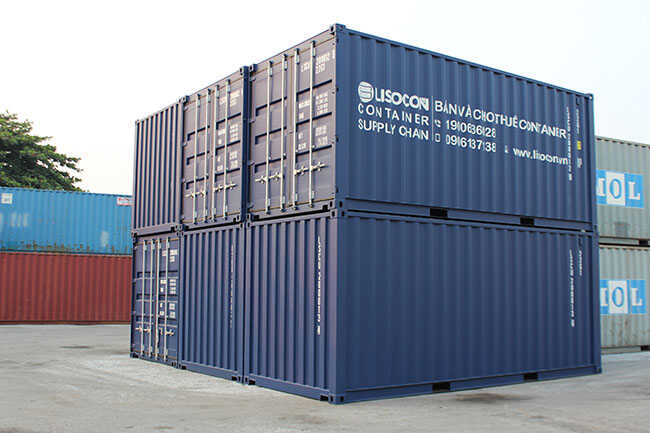 Dry containers
This is the most common type of container, used to store dry goods. It is also denoted as DC (Dried Container).
Dry containers include sizes: 10 feet, 20 feet, 40 feet, 40'HC and 45 feet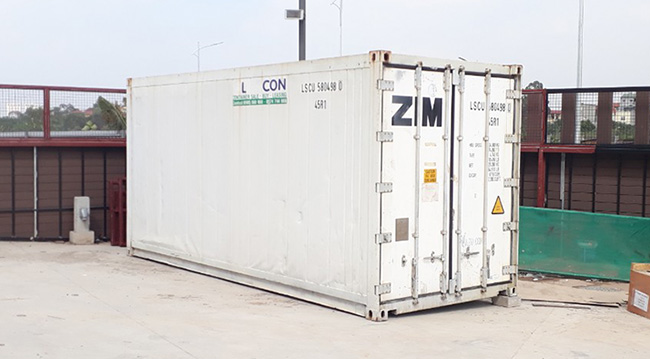 Refrigerated container
It is a type of container equipped with additional air conditioning, used to transport seafood and food that needs to be kept cold. Symbol is Container RF
Refrigerated containers have 2 sizes, 20 feet refrigerated containers and 40'HC refrigerated containers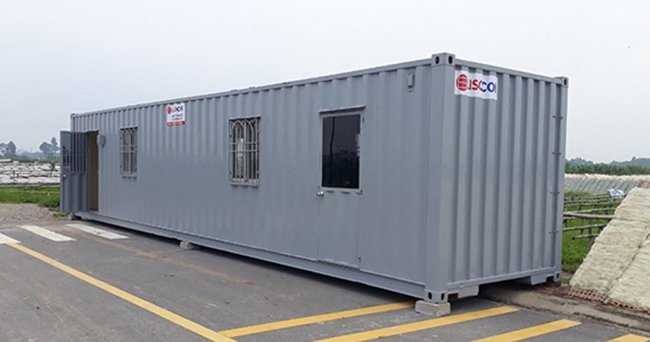 Office containers
Old containers are redesigned into working offices with full doors, windows, electricity, water and air conditioning systems... like construction offices.
Office container sizes include 10 feet, 20 feet and 40 feet

See the size of each type of container here
Toilet containers
This is a specialized container used as a toilet with a full toilet and septic tank
There are 2 types of toilet container sizes: 10 feet and 20 feet
Open top containers
It is a form of work that removes the ceiling from the structure. The symbol is Container OT

Reputable container leasing and selling company in Hanoi, Ho Chi Minh City and nationwide:

Lisocon is a professional and long-term company in the field of container sales and container rental of all kinds. Contact us for the best advice and help 0906 137 168