Features of our containers
• Storage containers are made from high quality corten steel tanks, have heavy load capacity, and are durable.
• Our storage containers can be used up to 20 years without any maintenance
• All used Lisocon storage containers are in good condition: doors open and close properly; floors, walls are solid, no leaks, watertight, airtight. They are suitable for storing goods or transporting them.
• We sell warehouse containers imported from shipping lines. We will not sell you an old container that has been purchased and used without notice. For old containers with low lifespan, we often sell them at a discount when they are available
• Our stock containers are available in light gray or original. However, we are willing to paint other colors upon request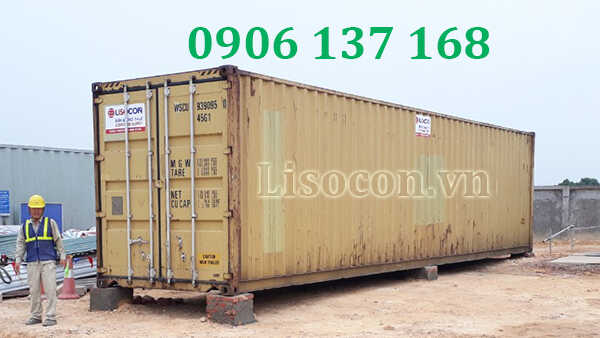 Container warehouse size type
We currently supply the following size containers:

| | | | | | |
| --- | --- | --- | --- | --- | --- |
| Type | 10 feet | 20 feet | 40 feet DC | 40HC | 45 feet |
| Length (m) | 3 | 6 | 12 | 12 | 13,5 |
| Width (m) | 2,43 | 2,43 | 2,43 | 2,43 | 2,43 |
| Height (m) | 2,59 | 2,59 | 2,59 | 2,89 | 2,59 |
| Maximum weight (ton) | 13,4 | 30,5 | 32,5 | 32,5 | 30,9 |
| Container weight (ton) | 1,4 | 2,2 | 3,7 | 3,9 | 4,8 |
| Capacity (m3) | 15 | 33 | 67 | 76 | 86 |
Shipping cost and selling price of storage containers in 2021
Container shipping costs will depend on the distance from the supplier's warehouse to the place of delivery. The longer the distance, the higher the cost and vice versa. Therefore, it is best to choose a supplier near where you want to place the container, it will help reduce shipping costs a lot. At Lisocon, with warehouses in Hanoi, Hai Phong, Ho Chi Minh, Da Nang, Binh Duong, we will deliver goods from the nearest warehouse to the location where the customer needs to place the container. Therefore, please contact us if you have a need.

The selling price of warehouse containers depends on the quality, design, and size of each one. Warehouse containers on the market in 2021 have many types, there are new types, used types and each has a different price. And of course, the new container price will always be higher than the old one. Even with the used type, the quality is also divided into many forms from 70% to 90% and their prices are also different. It is best to come to see the goods directly at the warehouse or ask the supplier to send photos and specific quotes for each container for the most accurate price.
Things to know before buying a storage container
Container quality

If you buy a new container it's certainly very good and you don't have to worry much about the quality. However, the cost of new containers will be very expensive, much more expensive than used containers while using old containers still meets the needs of customers as storage. Therefore, most customers choose to buy used warehouse containers.

The old warehouse containers on the market today are diverse in design and quality. They can be very good with quality from 70-90%, but also they have only 40-50% of their use value, which means they are very old and have a short shelf life. These containers can be leaky, rusty, dented, have termite floors, etc. and are repainted by container sellers for sale.

Our advice here is that you should not buy storage containers that are too old or have been repaired many times. These storage containers can be liquidated at a much lower price than other containers, but the quality is not guaranteed, cannot be used for a long time, wasting money and affecting work.
Storage container size
When buying a storage container, the customer needs to determine the size of the container they want to buy. And that depends on the needs of the customer. At Lisocon, we sell standard dry containers of 10 feet, 20 feet, 40 feet and 45 feet with capacities of 15, 33, 67 and 86 m3 respectively. You can view these parameters on the door of the container or our cargo papers.

In addition to the above dimensions, we also offer a 40-foot tall (HC) storage container with the same length and width as the 40-foot container but 30cm higher in height. Using tall containers is very beneficial in storing a large amount of goods with the same area.

In short, we have many options to meet the diverse needs of our customers. Contact us so we can help you
Delivery method of storage container seller
One of the other important things you need to consider when buying a storage container is how the unit sells the storage container. For the convenience of our customers, at Lisocon, we provide two options: door-to-door delivery and warehouse delivery. If you want, choose the on-site delivery option and we guarantee you will receive the right container of the right model, of the right quality and on time. If you have a means of transportation, you can choose to deliver at the warehouse and it will save you shipping costs.
Consider the benefits between renting and buying storage containers
This depends on your usage time. If you have a need for long-term use, buying a storage container will be more beneficial. But if you only want to use it for a short time (several months), you should rent a container because it will save you a lot of money.

See also: Buying and selling used refrigerated containers in Hai Phong, Hanoi and other provinces
Lisocon- the best warehouse container seller in the North
After 16 years of operation, Lisocon provides thousands of warehouse containers to domestic and foreign partners. In which, some of our big customers include Coteccons, Ricons, Unicons, Sam Sung, Aeon, Thang Tien, Hoa Binh, etc. The quality of our warehouse containers has been confirmed and trusted during the past 16 years. . We not only buy and sell warehouse containers but also other types of containers such as office containers, refrigerators, toilets... all over the country, especially the northern provinces with excellent quality and affordable costs.
Form of receiving containers at Lisocon
Customers can receive goods in two ways:
• Receive goods at the place specified by the customer. We have a team of trucks, trailers transporting containers as well as specialized cranes of all kinds. Thanks to that, we can deliver anywhere in the country with the most economical fee. Not only that, we can also be proactive in delivering the goods to make sure it's on time and on schedule for our customers. So just tell us what you need and we'll help you
• Receive goods at our warehouse: with this method, you do not need to pay shipping fees, provided that you must have a truck and crane
The process of buying and selling warehouse containers at Lisocon
• Customers choose the right type of container to buy: customers can come to see the container directly at the factory or ask our sales staff to send a picture of the container and choose the right type of container;
• Sign a purchase and sale contract: sign a warehouse container sale and purchase contract between the two parties after the customer chooses a suitable container;
• Customers transfer money to buy goods before Lisocon ships: we will deliver to the correct address requested by the customer. The contract price includes both the shipping price and the purchase price of the warehouse container;
• Lisocon transports the container to the agreed location: all transportation, lifting the container will be handled by us, the customer only needs to prepare the entrance, the container platform for our lifting vehicle is easy to do;
• Warranty after purchase: if after purchasing the container, there are manufacturer defects, we will carry out warranty and repair within 3 months.

Contact Info
Address: No. 24, lane 85, Vu Duc Than street, Viet Hung ward, Long Bien district, Hanoi
Warehouse: Ga Bac, Yen Thuong commune, Gia Lam district, Hanoi
Hotline: 1900.636.028 - 0906.137.168