Are you facing one of these following problems

- Your warehouse is overloaded with no storage space?
- Valueable goods don't have closed storage facilities and must be left outside?
- Your goods stored in a bad area?
- Need to use the warehouse in the short term, the warehouse location isn't fixed

If you are in this situation and must have a storage immediately while buidling a new warehouse takes several months, then the plan to use containers as a warehouse is exactly what you need.
So why you have to rent a container? What are the benefits of renting containers as a warehouse? You can refer to the article below.
Why you have to lease a container?
Can you unfamiliar with the form of lease Storage containers? But in fact, the container rental is no stranger to users, it has been going on for several decades. Tenants are also very diverse, but most are construction companies, shipping companies, yards, warehouses. When the construction takes place only in a certain time and the construction of a warehouse is too wasteful, leasing is the most optimal plan.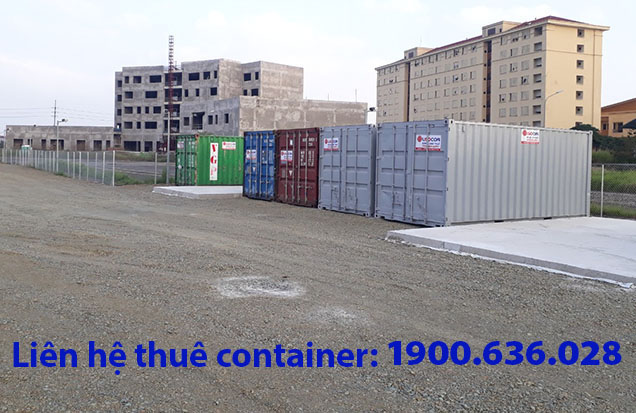 The benefits of leasing a container:
Using containers as warehouses and offices will help you save costs and time for construction of warehouses and offices: The cost of leasing container warehouses is 2-2.5 million/month and office containers is 3- 5 million/month. Meanwhile, the cost to build a warehouse with an area similar several hundred million or more. If your company is a construction company, the need to build warehouses to store tools and supplies, the construction within a certain period of time, the entire work moves away. Building a warehouse is not feasible, leasing containers as a warehouse will save more costs.
Easy transportation and relocation: Warehouse containers have strong structural characteristics, designed especially convenient for loading and unloading (moving from one transport vehicle to another), as well as moving displacement. Therefore, it proved particularly useful, in case your company's warehouse is in a low position and heavy rain can occur flooding. At that time, you just need to lift the container and move to a safer location easily without affecting the cargo.
Can transport goods anywhere without worrying about being broken or damaged: If your goods need to be stored at low temperatures like fresh seafood, then using a refrigerated container is a smart and beneficial choice. It can help you to preserve or transport goods to places that are not damaged.
Using a container is very friendly to the environment due to its less littering and the ability to reuse many times.
Withstand all types of terrain and inclement weather
Compared to buy container, the container leasing more than cost savings. In addition, when the time is up, customers can return to the supplier without having to worry about liquidation of containers like when buying.
The note when leasing containers:
The benefits are that, but if you do not pay attention to lease containers to hire low-quality products, it not only does not help you solve problems but also increases costs and difficulties for you. Here are some notes when choosing container rental suggestions for you:
Check quality container:
Today containers for lease on the market are mostly used and used containers, so customers need to carefully check that the cont shell, wooden floor surface is intact, not damaged, dented or rusty.Check that the machine is working properly.
Choose the right type of container:
Depending on the purpose of use, it will require the appropriate container type. For example, if you use ordinary goods, use container storage, if you want to store goods that need to be stored at low temperatures such as fish meat, seafood, use refrigerated containers ... In addition, depending on the need to use more or less that customers choose the appropriate size such as 20 feet, 40 feet, 45 feet ... Choosing the right size will help reduce costs and convenience when shipping.
Choose a reputable rental unit:
Currently, there are many suppliers and leasing containers with different types, quality and prices. Therefore, customers need to find a reliable and reliable partner to be able to choose quality products with reasonable prices.
Where is the best container rental service?
It is very easy to lease a container, but it is not easy to lease a good and quality product that suits the demand. You should choose reputable, long-time companies in the market to ensure quality and service when using. Lien Son Thang Long Joint Stock Company has 15 years of experience in container leasing with a series of large and small projects confident to meet all needs of customers. Advantages when renting in our company:
⮚ Quality Container is from 75 - 80% of the value of use, International standards to ensure the satisfaction of the needs for use as warehouses and transporting goods: Container with watertight and sealed container; sure floor, not punctured leaking; easy-open doors create the ability to unload goods quickly, reduce costs and damage when lifting.
⮚Unlimited number and lease time: The factory of Lien Son Thang Long Company in Hanoi, Ho Chi Minh City, Hai Phong, Hung Yen has an area of 5000 m2 with a capacity of thousands of containers. This is the basis for us to be able to provide you with an unlimited number of containers nationwide.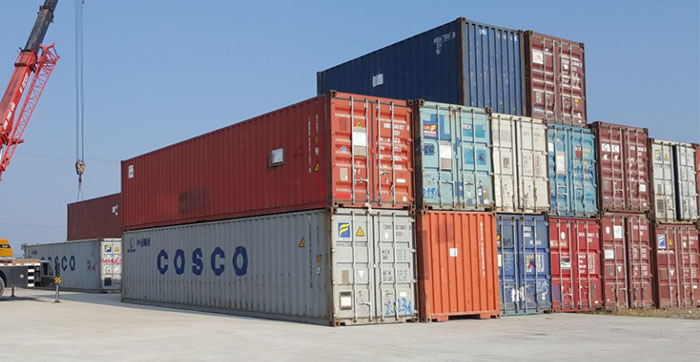 Customers can also freely choose from our thousands of products. With this variety, customers can buy the best quality products, suitable for quality and product size according to the needs set out. Under the guidance, advice, support from the staff, customers will quickly get good containers.
⮚ The rental period at the company is also very flexible and unlimited: can be rented from 1 month to several years. This helps a lot for customers in saving the cost of hiring cont
⮚ Delivery time is fast and accurate: We have a specialized system of forklifts, not leasing, so we can take the initiative in delivery to help us deliver goods quickly and accurately, saving customers time.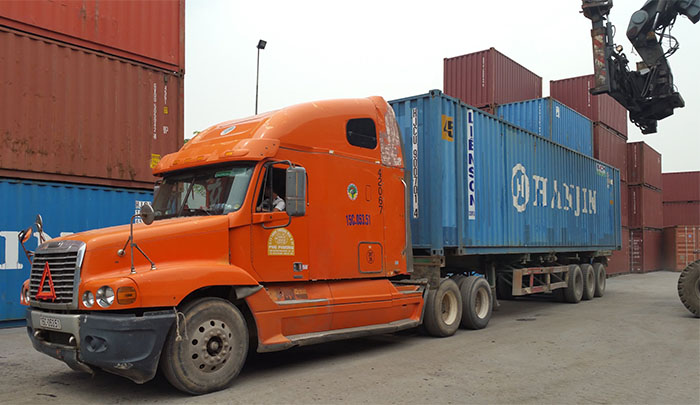 ⮚ Flexible payment procedures: Customers can pay by cash or bank transfer and can pay 1 time per month
⮚ Competitive price
⮚ Diversity in designs, product sizes, helping customers have many choices, including:
● Dry containers (also known as dry containers): A type of container used to store goods, products, tools ... Features of this category are:
+ Cont shell made of good strength steel, anti-rust
+ Flooring made of solid wood, good strength and easy to repair and replace
+ Watertight, sealed bright, easy to use, easy to transport
Currently, we lease container warehouses in Vietnam and abroad with the following sizes:

Dry container 10 feet: This type is used quite popular because it has compact size, handy, suitable for relative volume of goods in limited warehouse area.
Dimensions: D 3,047m x R 2,438m x C 2,591m. Volume: 14,9 m3
Dry container 20 feet : This type is also widely used by the moderate size and the convenience it offers.
Dimensions: D 6,058m x R 2,438m x C 2,591m. Volume: 33.04 m3
Dry container 40HC
Dimensions: D 12,192m x R 2,438m x C 2,896m
Volume: 75,95 m3

Dry container 40 'DC
Dimensions: D 12,192m x R 2,438m x C 2,591m
Volume: 67,34m3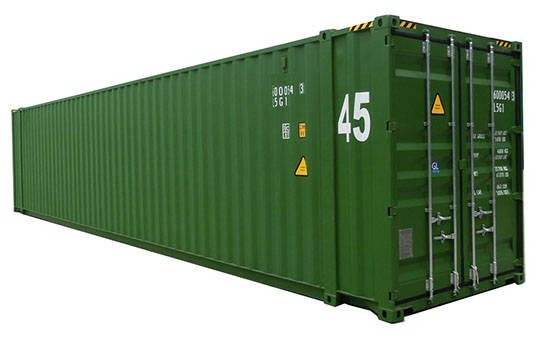 Dry container 45 feet:
Dimensions: D 13.556m x R 2,438m x C 2,896m
Volume: 86 m3
● Reefer containers: Designed to transport goods that require a certain level of storage temperature inside the container. Around this container is usually covered with absolute insulation, T-shaped aluminum floors allow airflow along the floor and to empty spaces on the floor.
There are 2 types of sizes: reefer containers 40 feet and reefer containers 20 feet

Currently, we lease containers in Hanoi, Hai Phong, Da Nang and all other provinces in the country.
If you still have not chosen the right product, please contact us for the best guidance, advice, support from a professional and enthusiastic staff.

Hotline: 1900.636.028 – 0906.137.168