Have you ever thought of having a modern, luxurious house in this expensive city?
Surely those employees who are low income, having a modern home for yourself is very difficult. Because everyone knows: To build a house of iron and steel concrete in the city, it takes a lot of money and construction time. And no matter how much you save, no matter how you thanks to the experts to design, the cost is very expensive.
But what if I told you that you absolutely can have a spacious house with a unique, luxurious design with very little cost and time of construction? You may not believe it, but this is completely true with the mobile home we introduced below:
What is a mobile home?
When it comes to houses, we often think of the house to be fixed on the ground. But now, due to many causes as well as environmental changes, many house models have been born including mobile homes.

Mobile home is the house "without foundation", made from old shipping containers. It functions as a home, modern office but can move from one place to another. Now, Mobile container houses include container offices, container houses and container toilets.
Is the mobile home hot?
When it comes to the use of containers as home, office, you might think of stuffiness and hot by the limited space of the container, especially in hot and humid weather like in Vietnam. But in fact, with modern technology, the container is designed and renovated into an office, a house with fully equipped, comfortable as a traditional built house.

You can see it through the sample container so we introduced below: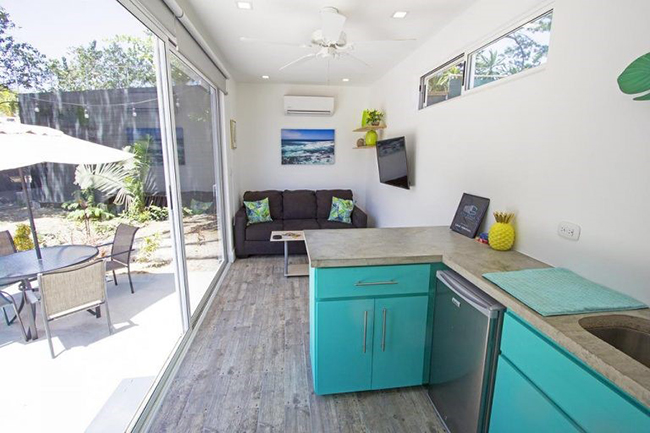 Walls and Ceiling Container are insulated with high quality hard foam layer capable 30mm thick insulation, good noise resistance. The floor is made of 3cm thick wood, covered with simili or paved stone. Electric system, air conditioner are installed fully, so the room is always cool. Besides, container houses are always focused on door systems. To increase ventilation, regulate the microclimate at home, improve the quality of room space in the containers, cutting walls, chiseling doors are inevitable. Utilizing the glass wall layer is also a smart solution to expand the space, reducing the feeling of stuffy in container.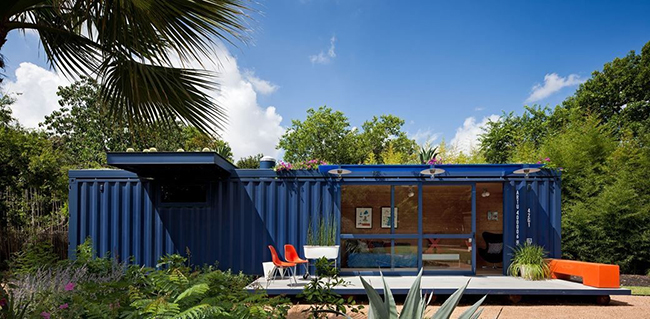 In addition, trees are also a good natural solution to reduce heat but also bring energy to the home.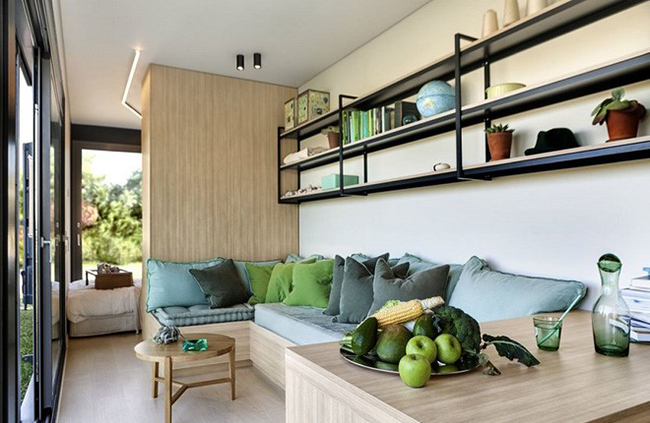 The living room is exquisite and fresh thanks to a sophisticated use of cladding materials and interiors. Looking on the ground makes people feel small and cramped space.. In fact, thanks to the versatile door and glass walls with the flexible interior layout, the house feels spacious and comfortable.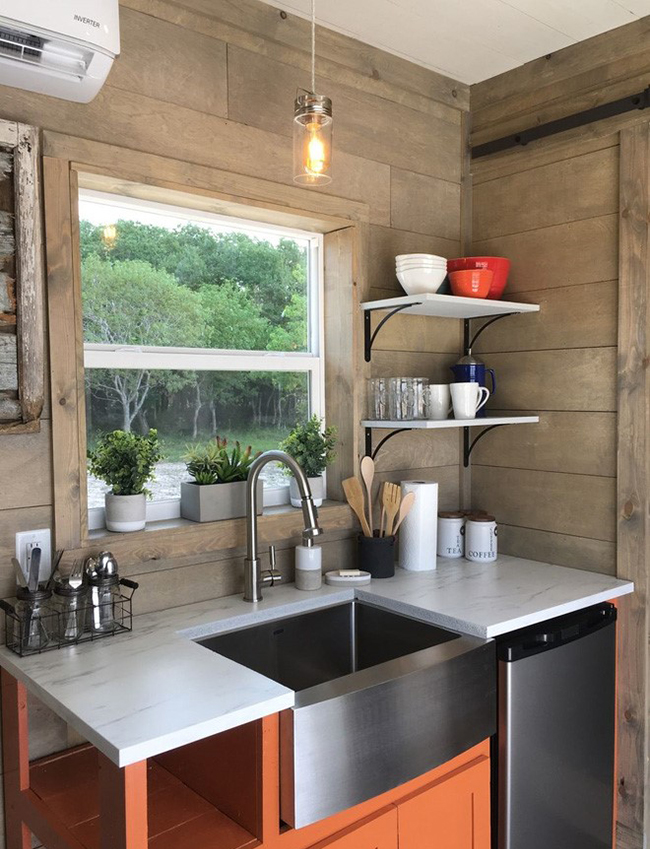 Small and modern kitchen space: the space in a container house is usually small, so functional departments should be arranged in a scientific way, flexible. The kitchen is arranged neatly and delicately. Utilizing multifunctional furniture not only saves space but also saves money and costs.

Small spaces like container houses often require homeowners to arrange furniture and arrange suitable spaces. The bedroom in this house is small but no stuffy feeling by the application of artificial light yellow lamp in a smart way. Cabinet shelves also help increase the storage area and arrange furniture neatly.
What are the benefits of using a mobile home?
We all see the luxury and comfort that container houses bring as the above designs. But not only that, using container houses there are many other benefits that you can refer to:
Save space and area: If in places with too small area, the construction of traditional reinforced concrete houses is not feasible, it is easily solved with the mobile home option. Just an area of about 10 m2 that customers were able to get Office container with dimensions of 10 feet, or with an area of 20m2 is booked office container 20 feet. Meanwhile, it still has all the conveniences of a modern office. So, places as rich and vast as cities, you absolutely can have a luxurious house, fully equipped without having to be too large area.

Fast construction time, low investment cost: If you only have a limited amount of capital and are in urgent need of housing, a true mobile home is for you because one of the biggest benefits mobile homes bring is fast construction time and low investment costs. Due to the characteristics of the house without foundation, assembled from containers, so when using mobile homes you do not need to spend time, nails and construction of concrete houses. According to experts, the use of container houses saves 70% of foundation costs. Thanks to that, construction cost and time are saved a lot.

Easy to dismantle and move to another project: Being assembled from containers, so dismantling and relocating is very easy. After finishing this project, you can dismantle and relocate to another project to save investment costs. In addition, now floods are happening more and more frequently, the use of container houses also helps you easily move when problems occur.

Environmental friendliness: Typically, mobile homes are used from the old and used containers to build the core instead of traditional steel and concrete reinforced concrete so it is very environmentally friendly. In addition, the reuse time of containers is up to 50 years in the current weather conditions of Vietnam.

Suitable for all types of terrain: compared to traditional concrete houses, container houses do not need solid foundation, which means that you can build houses in all different terrains, including on the ground week.

Flexibility in layout windows, doors, easy decorating.
How much is the price of mobile homes?
You are wondering with so many advantages, how much is the price of mobile homes ? Is it expensive? In fact, as with traditional houses, container house costs vary. However, the average price is about 100 million for a complete container house with furniture. And if you do not want to buy it, you can rent it cheaply from 2 -3 million / month.
Where are reputable mobile rental locations?
If you want to buy or rent a mobile home, you can find out our services. With 15 years in providing mobile homes, we are a reliable address for customers when wishing to rent office and sanitary containers nationwide.Our advantages:
Provide design drawings before installing the container when customers request. These blueprints are drawn realistically through 2D and 3D drawings, which are very vivid and accurate to the smallest details to help you get the most optimal solution when using a mobile home.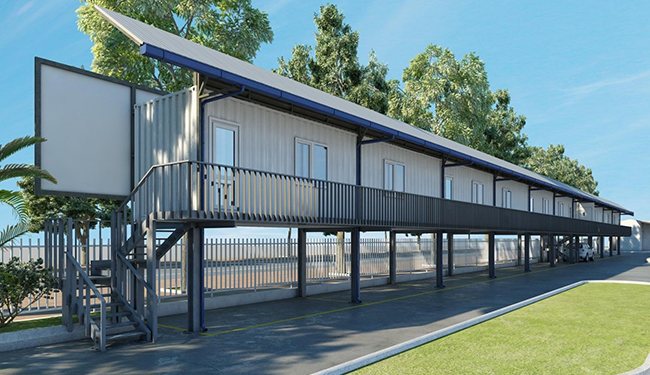 The mobile house is fully constructed as a modern office. Many people worry that container houses will be hot, noisy and stuffy. But in Lisocon, the container houses we provide are reinforced, combined with soundproofing and heat insulation materials to make the house cool, quiet and comfortable not inferior the house made of traditional reinforced concrete.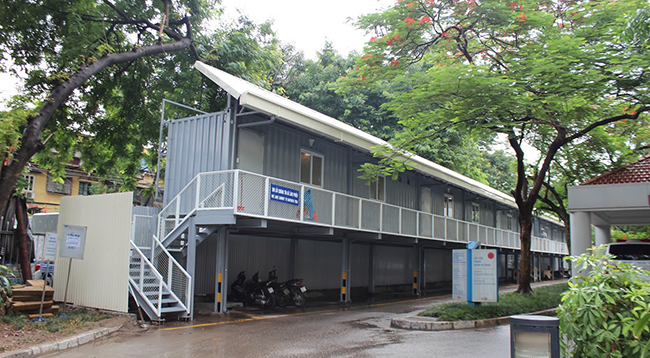 The rental period at the company is also very flexible and unlimited: can be rented from 1 month to several years. This helps a lot for customers in saving the cost of hiring cont.

Delivery time is fast and accurate: We have a specialized system of forklifts, not renting, so we can take the initiative in delivery to help us deliver goods quickly and accurately, saving customers time.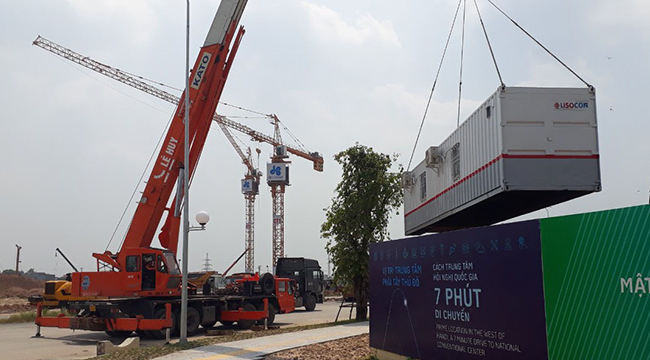 The types of mobile homes we offer:
Container Office / Container home

Features:
Installation of electrical wires, sockets and switches are fully and submerged inside the wall very neatly and scientifically, exhaust fans, air conditioners, water supply and drainage systems are full and convenient.

There are toilets inside containers to create convenience for users

Creating soundproof and heat insulation layers to make the office space airy, clean and cool, friendly to nature.

Painted 3 layers by a paint resistant to the marine environment.

There are many types and sizes for customers to choose:10 feet office container, 20 feet office container, 40 feet office container and 40 feet office container with toilet
Toilet Container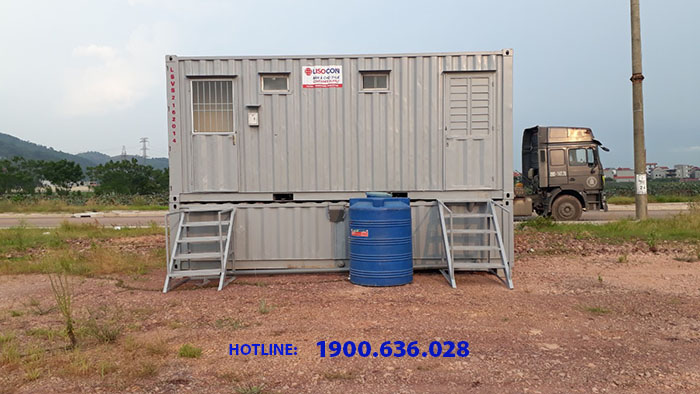 Features:
✔ Ceramic floor
✔ There are partitions, doors, exhaust fans Tico brand, lavabo, lights, mirrors, towel-hanging baskets, paper containers, garbage baskets for plastic water tanks of 250 liters
✔ Water supply and drainage system is made of PVC pipe
✔ There are 2 types of toilet containers: 10 feet toilet container, 20 feet toilet container
So why hesitate any longer without contacting us?

Lien Son Thang Long Joint Stock Company
Office Hanoi: No 24, Lane 85, Vu Duc Than Street, Long Bien Hanoi
Warehousing: Ga Bac, Yen Thuong, Gia Lam, Hanoi
Central Region: Road No. 3 Hoa Cam Industrial Park, Hoa Tho Tay Ward, Cam Le District, Da Nang City
The South: No 39 DT 743 Street, Bình Thăng Ward, Di An, Bình Dương Province
Hotline: 1900 636 028 - 0906 137 168