In the flax container, the air conditioner is likened to the human heart, it provides cold air in a cyclical cycle, bringing cold air to every point in the container, ensuring optimal cooling efficiency for goods. The air conditioner is controlled fully automatically. In particular, it has an intelligent control system with sensors that helps customers easily set temperature, humidity, defrost time and data connection via computer.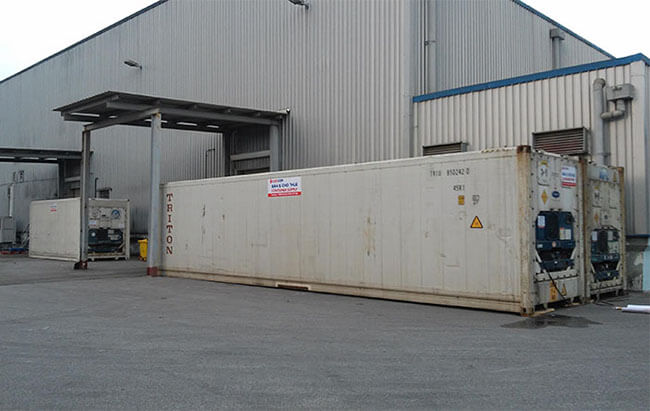 There are many types of air conditioners used in refrigerated containers, but the most commonly used are air conditioners manufactured by Thermoking, Carrier, Mitsubishi, Daikin with the same general capacity of 7.5HP.
Types of refrigerated containers
Currently there are many types of refrigerated containers with different sizes from 10 feet, 20 feet, 40 feet and 45 feet. Thereby creating many choices suitable for the quantity of goods of customers.

At Lien Son Thang Long Joint Stock Company, we are providing 2 types of 20-foot refrigerated containers and 40-foot refrigerated containers. These are also the two most commonly used types today, suitable for transporting and storing goods such as vegetables, fruits, meat, fish...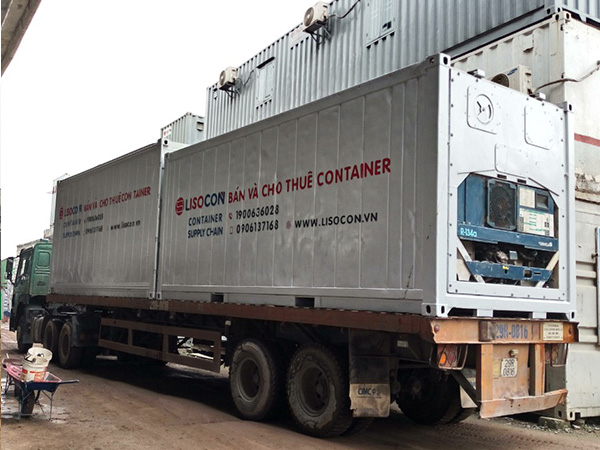 Refrigerated containers 20 feet

See also: Dimensions, specifications of 20 feet container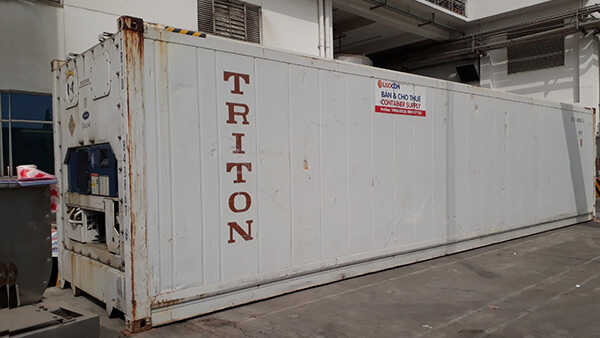 40 feet refrigerated container

See also: Dimensions, specifications of 40 feet refrigerated container

45 feet and 10 feet refrigerated containers are less commonly used.
Construction and operation of refrigerated containers
Refrigerated container construction
A refrigerated container includes:
+ Special cargo container shell with high sustainability by corten steel or equivalent material to achieve the ability to use the continuous movement of goods, everywhere in the world.

+ Air conditioner: Air conditioners are commonly used by Thermoking / Carrier / Mitsubishi / Daikin brands. The cooling system includes:

Evaporator: works by absorbing heat from the cold medium then boiling and vaporizing, this is the main heat exchanger of the refrigerated containers.

Condenser: used to liquefy the refrigerant after compression in the refrigeration cycle, cooled by circulating air. In order for the system to work properly, the container needs to be cleaned, free of dirt, or else it will reduce the efficiency of heat transfer when in use.
Compressor: responsible for compressing refrigerant at low pressure to higher pressure and there are different types of compressors including Piston compressors, screw compressors, helical compressors, centrifugal compressors .

+ 3 phase current (380V). Automatic power off system.

+ Automatic thermal cut-off system, cooling by fan
Refrigerated container operation
In order to use refrigerated containers in the best way, you need to understand some general rules when using them below:

- Refrigerated containers are designed only to keep the temperature of the goods. Therefore, it is necessary to frozen the goods to the required temperature before putting them in the container to ensure the refrigerated container works well.
- For refrigerated goods, the temperature is negative, when closing the goods, it is necessary to turn off the machine, only run the machine when the door is closed.
As for goods that have not been cooled or cooled with a positive temperature, the machine should not be run when the goods are closed because then, the cooling effect of the door opening is negligible. And should be divided into 3 times when packing in the summer, divided into 2 times in the winter, each time 6 hours apart.
- Packaging of goods should be neatly packed, to avoid debris that obstructs cold air circulation.
- Total freight should not be longer, wider, or higher than the container's inner dimensions
(Goods must not exceed the red line in the container)
- Line up to ensure cold air can circulate.
- While closing the cargo, let the air conditioner run
- Do not automatically adjust the air conditioner
- The control panel must always be closed and protected from water
- Run the air conditioner as soon as the goods are closed.
- Avoid dismantling or damaging the refrigerating appliance.
Where is the best place to rent a refrigerated container?
Lien Son Thang Long Joint Stock Company has 15 years of operation in the field of selling and leasing refrigerated containers to all provinces in the country and the region with 2 sizes of 20 feet and 40 feet. Our products are always of high quality, stable cooling system, outer shell is deformed stainless steel corten, competitive price.
Some of the projects we have supplied in large quantities such as: Nhon railway project, Que Vo industrial park project, Vsip Bac Ninh project, Thang Long IP 1,2,3 project...
If you have a need to buy or rent a container, please contact us via hotline 1900.636.028 for advice and the best 20 feet, 40 feet refrigerated container quote.

In addition, we also sell and rent office containers, toilet containers, storage containers, build panel houses, prefab houses with containers.